US Coast Guard Scholarship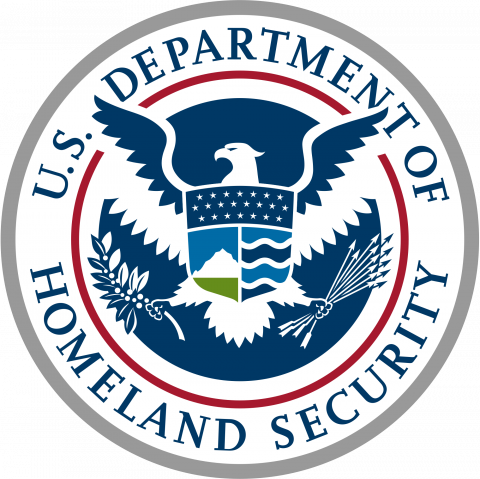 CSPI (College Student Pre-Commissioning Initiative) is a full-tuition scholarship program designed for motivated individuals who desire to serve their country in the United States Coast Guard. The purpose of the program is to promote the Coast Guard at Minority Serving Institutions. CSU is the first institution in Illinois to offer this unique partnership and the only selected university in the Midwest.
Students accepted into this program will be enlisted into the US Coast Guard and complete basic training during the summer. During the school year, students are required to participate in a minimum of 16 hours of Coast Guard activities per month. Upon graduation, CSPI students are commissioned as officers in the United States Coast Guard.
Benefits
Program participation provides:
up to 2 years of college tuition, including books and fees
salary for two years (average $40,000)
housing allowance
medical benefits
job security; guaranteed job after graduation
health care benefits
leadership training
The Experience
Students during their CSU school year participate in a minimum of 16 hours a month of Coast Guard activities and are supervised by the Recruiter in Charge (RIC) at their recruiting office. This includes wearing a Coast Guard uniform once a week while on campus and during their 4 weekly hours of Coast Guard duties. During school breaks, CSPI students receive training and exposure to Coast Guard missions and units where they learn about the daily life and duties of Coast Guard officers and enlisted members. Students may be able to work at a
Coast Guard Air Station
Coast Guard Small Boat Station or a Sector.
Students may also be able to participate in a cruise on a Coast Guard cutter, depending on the opportunities available at the time. Often students are able to complete watchstander qualifications at their unit, which will substantially help them when they become an officer.
Eligibility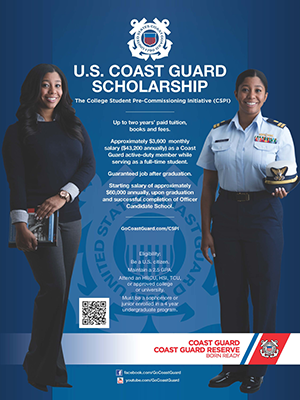 Students currently enrolled, accepted for enrollment or in a full-time bachelor's degree program at a designated college or institution with the desire to complete college and receive a guaranteed commission as an officer in the United States Coast Guard can apply for CSPI. The program seeks rising juniors (or students who have earned between 30 and 60 credit hours).
Transfer students are eligible. A student currently pursuing an AA/AS degree at a junior college or community college who plans to continue with their BS/BA degree may be eligible for CSPI if they are accepted for enrollment at a qualifying college.
Application Process
Contact Dr. Carlos Gooden or visit the official Coast Guard Recruiting Website for more information
Deadline to complete the application is October 15, 2020. We recommend beginning the process as early as September.
US Coast Guard CSPI Scholarship Program Information Session
Learn about the US Coast Guard and all of the benefits from Lt. Sasha Query, LIVE! Don't miss out on this amazing opportunity on Thursday September 10 at 5:30pm, you can
Register Here
!

CSU and United States Coast Guard
One of the primary reason Chicago State University is so special is the amount of support we have from our amazing community partners.