ILSAMP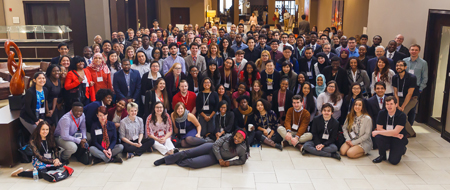 The Illinois Louis Stokes Alliance for Minority Participation (ILSAMP) program was established in 1993 and is funded by the National Science Foundation (NSF).
The Illinois LSAMP represents one of a number of consortia of colleges and universities throughout the United States and Puerto Rico, with the goal of significantly increasing the number of undergraduate and graduate degrees awarded to underrepresented populations in (STEM). CSU serves as the lead institution for ILSAMP.
ILSAMP is comprised of
8 public and private universities
4 regional community colleges
the Field Museum
and one Federal Laboratory
Together this group utilizes a collaborative effort to provide programs that improve the quality of STEM education for students and prepare them for careers in the STEM field. Through STEM educational research at Loyola University, Chicago, the Alliance is also focused on developing and disseminating innovative STEM mentoring model based on the academic, personal, and professional experiences of URM STEM students and their mentors.
The strategic location of the partner institutions throughout the state of Illinois enables the alliance to reach a larger, more diverse student population and provide broader access to graduate and research opportunities for LSAMP scholars. The Illinois LSAMP also sponsors a "Bridge to the Doctorate" program at the University of Illinois at Chicago (UIC) to mentor and increase the number of underrepresented minority graduate students enrolling in doctoral programs.