College of Health Sciences Virtual Open House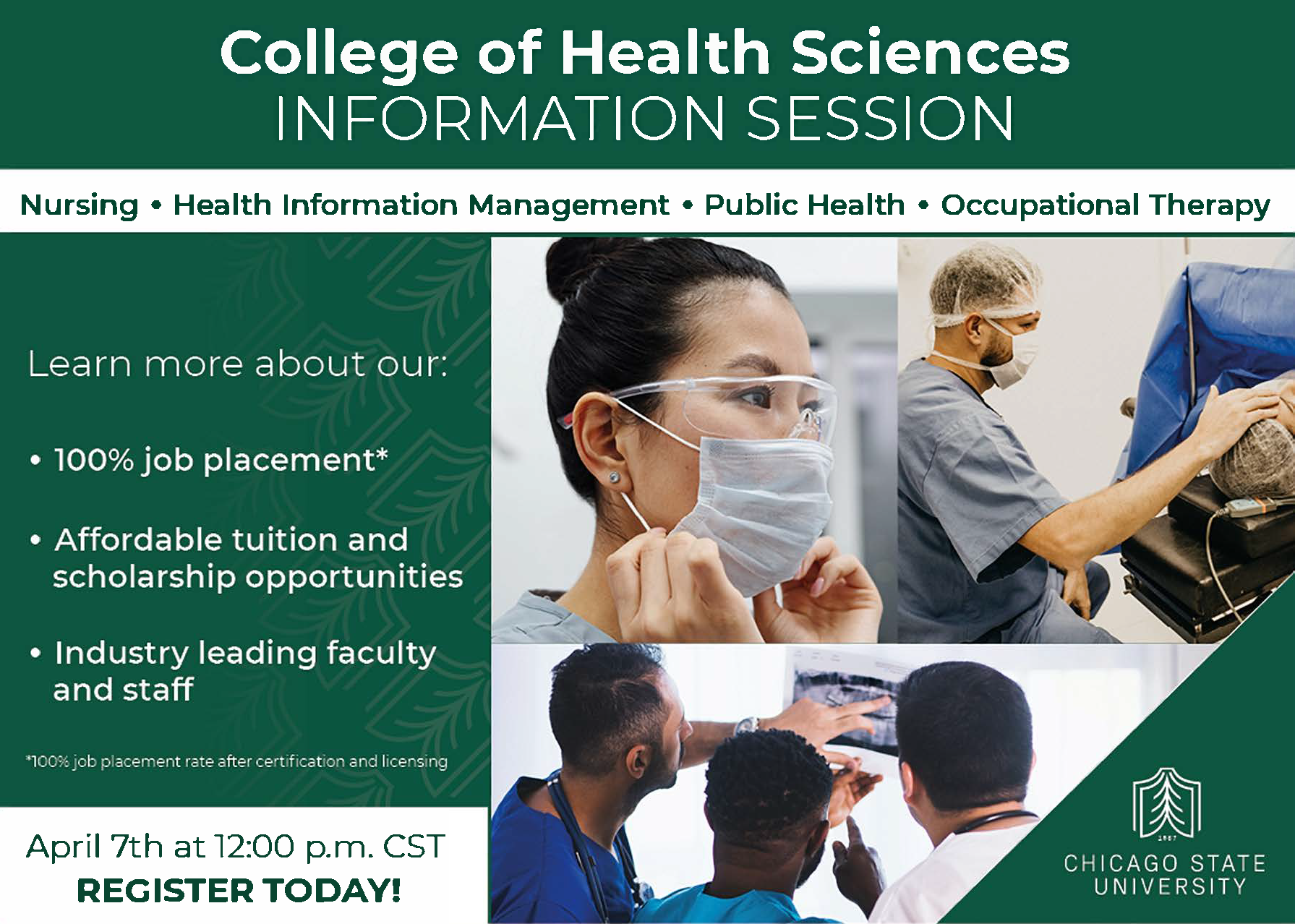 Register Today for Our Spring Virtual Open House
The College of Health Sciences at Chicago State University will host our Spring Virtual Open House on April 7th 2021 from 12pm — 1pm
Come learn how to be the solution to today's health care challenges in a high-demand field!
As you decide your future as a healthcare professional, you can choose from a complete range of nationally recognized, accredited degree programs, from undergraduate to graduate. An outstanding educational experience awaits you that will enrich your life and enhance your career opportunities in the ever growing field of healthcare.
We are widely known for:
Excellent teaching with 100% job placement rates across our program

Affordable education with scholarships across our programs

Excellent employer partnerships with industry leaders, including Advocate Aurora and the City of Chicago
As a national leader in interdisciplinary healthcare education and excellence in teaching, research and service, we strive to inspire and prepare our students to seek and create innovative healthcare opportunities locally, nationally and globally. The College of Health Sciences embraces an urban mission. You will be able to take advantage of a rich cultural environment though fieldwork and internship experiences. We partner with some of the best healthcare facilities and medical centers in the Chicagoland area.
Our Academic Programs:
Undergraduate-Programs
Health Information Administration

Community Health

Health Sciences, Pre-Occupational Therapy

Pre-Physical Therapy

Nursing

Post-Baccalaureate Certificate-Programs
Graduate and Professional-Programs
Occupational Therapy

Public Health
Where will your training in the College of Health sciences take you? The options may surprise you. Our students work in just about every medical setting. Our Partnership to STEP UP in Health Careers (STEP UP) program is operated by Chicago State University in partnership with South Suburban Community College and Metropolitan Family Services. Together, we offer the opportunity for training and career laddering in the rewarding fields of Community Health, Health Information Administration, Nursing and Occupational Therapy. Whatever your interests in the world of health care, your education in the College of Health Sciences will prepare you to use your skills to benefit patients.
Career Opportunities:
Certified Nursing Assistant (CNA)

Medical Coding Specialist

Personal Care Aide

Associate Registered Nurse

Occupational Therapy Aide

Community Health Worker

Medical Assistant

Occupational Therapy Assistant

Contract Tracer
Complete the registration form by clicking the following link: CSU Spring Virtual Open House
Questions? Feel free to contact us at (773) 995-2513 or email us at ug-admissions@csu.edu for more information.
We look forward to seeing you!
CSU Office of Admissions