Closed for the Holiday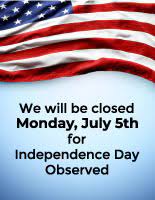 The Undergraduate Admissions Office will observe the July 4th Holiday on Monday, July 5th 2021; Our office will close at the end of business Friday, July 2nd 2021, and reopen on Tuesday morning July 6th, 2021. Over the break please feel free to email us with any questions or concerns at ug-admissions@csu.edu. We will return inquires in a timely manner.
If you have not already, we highly encourage everyone to complete their Fall 2021 applications today! The sooner your application is completed; the sooner we can consider you for admissions here at Chicago State University! Please begin your application on our page Here .
Last but not least "Nothing as close, can take you as far, as Chicago State University". Let's use today to count our blessings, keep our spirits high and alive along with our Chicago State Cougar Pride!
Sincerely and warmly,
Chicago State University