International Women's Day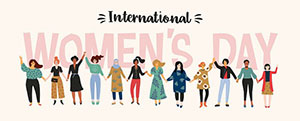 International Women's Day is a global day celebrating the social, economic, cultural and political achievements of women. The day also marks a call to action for accelerating gender parity. Important activity is witnessed worldwide as groups come together to celebrate women's achievements or gathering for women's equality. Marked annually on March 8th, International Women's Day is one of the most important days of the year to:
Celebrate women's achievements
Raise awareness about women's equality
Lobby for accelerated gender parity
Fundraise for female-focused charities
Here at Chicago State University, we celebrate the contributions of our talented and diverse #womeninmotion who utilize their knowledge and professionalism for the betterment of our Cougar community. Whether as a member of our esteemed faculty, our results-driven administrative team or student leaders who are active on campus, the contributions that women have made to our university cannot be understated.
Similarly, the university fosters a progressive learning environment through our Women and Gender Studies minor where students can research, evaluate and question the worlds we study and how they are influenced by gender. Courses in topics such as women in politics, law, psychology of gender and gender in society are a few of the many opportunities that can be found in this engaging and interdisciplinary program.
International Women's Day has transpired for well over a century with the first gathering held in 1911. The campaign theme for International Women's Day 2021 is "Choose To Challenge".
A challenged world is an alert world, and from challenge comes change - so let's all Choose To Challenge.