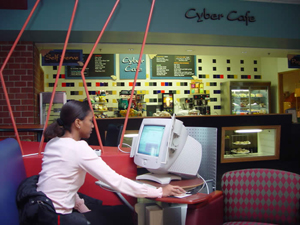 Students who wish to receive consideration for financial aid funds (grants/loans/student employment, and many scholarship programs) must complete the financial aid application process every academic year. At Chicago State University (CSU) the academic year begins with the fall semester and ends with the summer semester. Whether you are an incoming or returning student (in an undergraduate, graduate or professional program), the application process is the same. The first step you must take is to complete a FAFSA (Free Application For Federal Student Aid).
You are encouraged to complete and submit a FAFSA on-line (link provided below). CSU's Federal school code is 001694. You will need to enter this code on your FAFSA so that CSU will receive a copy of your application once it has been processed by the U.S. Department of Education (USDE).
Be sure to fill in our USDE school code, 001694, when answering question #101 on the 2013-2014 FAFSA so that we are sent a copy of your Student Aid Report (SAR).
The USDE provides a worksheet to help you prepare to complete the FAFSA on-line. The worksheet is available in the lobby of the Office of Student Financial Aid and from other public institutions. You may download the worksheet, in PDF format,(for the Fall 2013, Spring 2014 and Summer 2014 semesters)
by clicking here for the English version for the 2013-2014 FAFSA Worksheet.
by clicking here for the Spanish version for the 2013-2014 FAFSA Worksheet.
The fastest way to complete the FAFSA application process is to electronically sign your application on-line. You can do this if you have a PIN (Personal Identification Number) assigned by the U.S. Department of Education. All students (and parents of dependent students) should apply for a PIN. If you do not have a PIN you may, of course, print out a signature page from the FAFSA web site and mail it to the address indicated on that signature page.
You will, in most cases, need a copy of your Federal Income Tax Form (and your parents' forms too, if you are a dependent student) in order to complete your FAFSA. If you can't locate this important document(s) you can easily obtain the needed copy(s), free of charge, from the IRS.
The United State Department of Education (USDE) no longer provides paper FAFSAs to colleges, high schools and other public institutions. If you desire to file a paper FAFSA you may obtain one by calling the Federal Student Aid Information Center at 1-800-433-3243. If you are hearing impaired, please contact the TTY line at 1-800-730-8913.
You may download a 2013-2014 FAFSA, in PDF format, (for the Fall 2013, Spring 2014 and Summer 2014 semesters) . . .

by clicking here for the English version and/or
by clicking here for the Spanish version.
For further information concerning your FAFSA filing options you may consult the USDE FAFSA INFORMATION web page.
Once your FAFSA has been processed you will receive a Student Aid Report (SAR). If you filed via the internet (and were able to sign your FAFSA with your USDE PIN) and you provided your e-mail address on the FAFSA you will be able to access your SAR via the Internet within two business days. If you filed a paper FAFSA, or via the internet without providing an e-mail address, you can expect to receive a printed copy of your SAR in approximately three weeks. Our office will receive an electronic copy of your SAR (provided you included our Federal school code) once processing is completed.
You should review your SAR thoroughly. If additional information is required, or you see that you made an error in any of the information you provided in your original filing, it is your obligation to provide the additional/correct information in order to complete the FAFSA process. Our office will receive electronic copies of any additions/corrections you make.
By filing a FAFSA undergraduate Illinois residents are also completing the application process for the Illinois Monetary Award Program (MAP) Grant. Be sure to file your FAFSA as soon as possible beginning January 1st of every year for the upcoming academic year in order to qualify for all possible Illinois grants.
2013-2014 Academic Year
Special Note to those Undergraduate Students who did not file a 2013-2014 FAFSA prior to March 2, 2013: The Illinois Student Assistance Commission (ISAC) has suspended the processing of new MAP grants for the upcoming 2013-2014 academic year as funding was not available on and after that date. Early suspension of awarding was due to the higher than expected volume of students applying for financial aid for the upcoming year. In other words, if your FAFSA was not filed prior to the March 2, 2013 deadline date, you will not receive MAP for the upcoming Fall and/or Spring semesters, even if you are eligible for it based on the information provided on your FAFSA. For more information concerning the suspension please review ISAC's announcement on its Monetary Award Program (MAP) web page.
2012-2013 Academic Year
The MAP suspension date for the 2012-2013 academic year was originally March 19, 2012. It was later revised to April 2, 2012.
You will need

to download some of the forms/documents on this web site.