CSU's IS and the Washington Fellows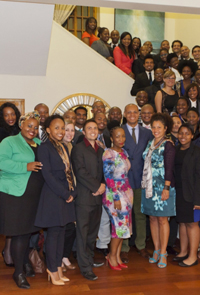 The International Studies Program at Chicago State University participated in the Chicago's Africa Diaspora mentorship program with President Obama's Young African Leaders Initiative (YALI) delegates, otherwise known as the Washington Fellows, hosted by Northwestern University. Dr. Margaret King, Coordinator of International Studies and the Founding Director of the new Global Institute of Sustainable Development, was selected as a subject matter expert to participate as a panelist on a Global Entrepreneurship forum moderated by another CSU's very own, Derrick Collins, Dean of the College of Business. Dr. King was also appointed to serve as a mentor to the young African leaders.
YALI is an innovative long-term effort of President Obama to invest in Africa's future leadership development that would strengthen partnerships between the United States and Sub-Saharan Africa. Upon a call for leadership training, 50,000 bright African youth applied, of which 500 were selected through a rigorous process. These "Cream of the Crop" future leaders are placed in twenty American universities to be trained annually in critical leadership areas including: public management and administration; business and entrepreneurship; and civic leadership.
The training will impart practical leadership skills and capacity-building to the next generation of African leaders to become experienced, globalized innovators in their respective careers, organizations and communities. "In partnership with the private sector, host country governments, international and regional bodies, and civil society organizations, the U.S. Government is seeking to build a pipeline of meaningful opportunities for fellows to put their new skills to practical use," echoed, Mike Chitavi of Afrileo, one of the organizers.
The mentorship event was well attended by a vibrant group of accomplished Chicago's African Diaspora. The Washington Fellows had the opportunity to network and learn first hand from their predecessors who share similar stories to theirs. They will use the practical knowledge gained to touch lives and continue to impact their communities and countries positively. "I was very impressed when I met on a one-on-one with these enthusiastic and bright young innovators. It increased my hope for the future of African development and global sustainability," Dr. King articulated. The Fellows were very impressed by her profile and words of encouragement that they unanimously adopted her as their "International Mother."