Programs
To fulfill its goals, GISD houses the following programs and centers as tools of implementation.
Covering the globe, the twelve world regions are compressed into 6 centers, each to be established as the need for study and research arises after a current focus on Africa.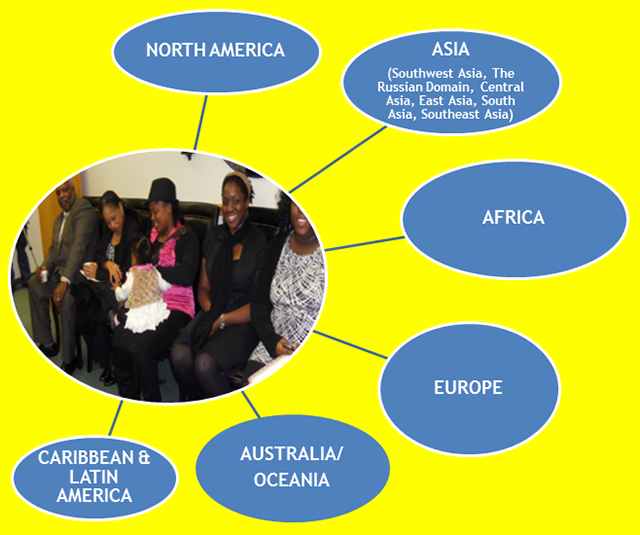 Although the institute has five major theme centers, any research topic may fall within them. This means a wide range of topics including but not limited to: Race and Gender, Public Policy, Globalization, Internet/Cyber Security, Oil and Gas Industries, Agriculture and Rural Development, International Development, Community and Economic Development, Migration and Border Issues, Housing, Urban Agriculture, Sustainability and Green Living, etc.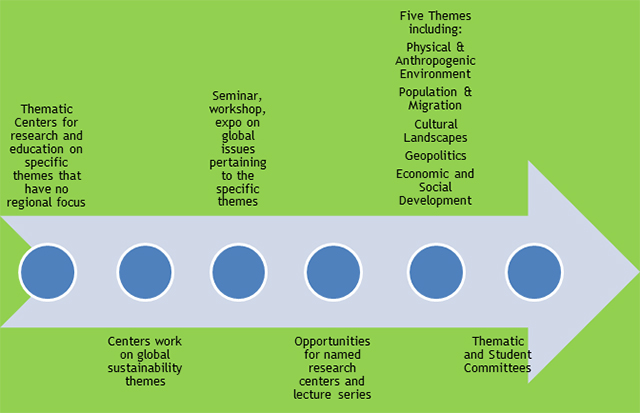 Trans-cultural Exchange Program
Cross-Cultural Exchange for education, research, and service creates global affiliations with institutions, organizations and individuals across the globe. Faculty and professionals use this tool effectively for sabbatical leave, a win-win for all parties involved. Various levels of Memorandum of Understanding (MOUs) generated with potential affiliates.

Community engagement is paramount for the service learning center. It works to create a sustainable impact on the immediate surrounding communities of CSU and beyond as demonstrated by the chart below: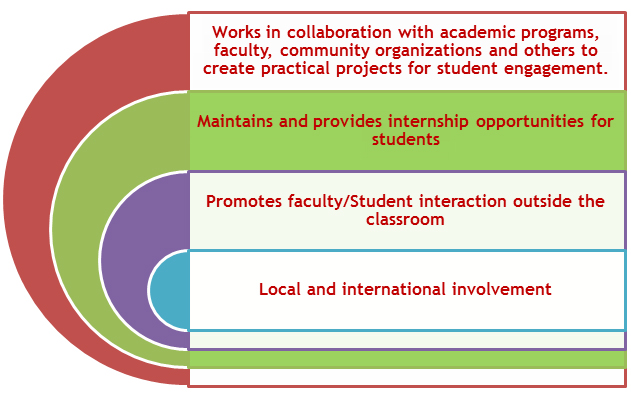 Also as a recruitment tool, the Institute works with organizations to develop service opportunities for students to engage in. GISD also affiliates projects with faculty and classes to create impactful service-learning for students in community issues locally and internationally.
Microfinance Center is an initiative of GlSD. The goal is to stimulate leadership skills, financial education and entrepreneurship in a practical learning approach that breaks generational dependency while also alleviating poverty among CSU students and surrounding communities.
The program seeks to empower future leaders to take control of their economic conditions by starting actions that would reshape and transform their financial future and break the cycle of poverty for future generations. By building a solid financial future, prospective student entrepreneurs build self-confidence and become responsible economic citizens and change the course of history for their communities.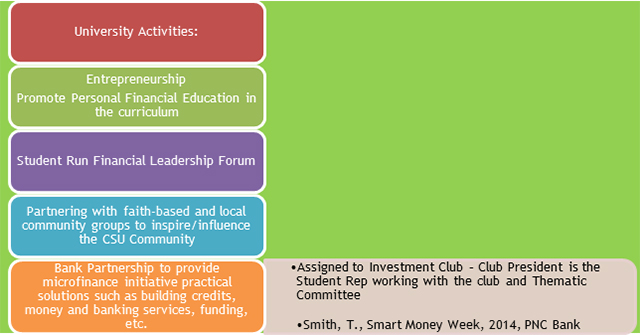 With GISD's Microfinance Initiative, MFI, financial education of the students and affiliates is the main focus. Also important, is community partnering to deliver sustainable economic and financial services. Academically, GISD will collaborate with the economics program and the College of Business to deliver these services. Entrepreneurship development is a major aspect of this initiative.
GISD also engages financial institutions which entails training & funding. Financial institutions back training with low cost products and facilitate migration to full banking access for participants. GISD has identified PNC Bank as an initial partner to provide these services.
Community partnering connects CSU surrounding communities with solutions. This approach informs content, delivery, pricing and structure while also monitoring for accountability on all sides. An initial meeting with the Neighborhood Housing Services of Chicago (Roseland Neighborhood), in March 2014 during the Global Awareness Week indicates a potential partner and the need for similar collaborations. Faith-based partnering is primarily a unit of connectivity to low and medium income, LMI, communities. GISD utilizes several of these collaborative initiatives as in this case for IS student recruitment.
GISD will also establish collaborations with local/ward, municipal, county, state, national and international government. This is important for advocacy for supportive policies (policy controls) and financial resources.
In summary, MFI enhances entrepreneurship promotion. MFI is a new wave of university programs and CSU is one of the first in the region. A collaborative approach with economics, the College of Business, global companies and institutions generates:
This entails short-term workshops, seminars and for a on topics of interest to the global community.
In a global scholarship approach, the Institute contributes to knowledge through research, annual conference and journal for research publications, global forum, information dissemination channels and stimulating funding for scholarship.