Spanish
Why Study Spanish?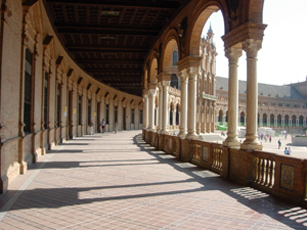 Of the more than 400 million native speakers of Spanish in the world, over 38 million live in the United States. In fact, according to the most recent estimates from the U.S. Census Bureau, the United States is the world's fourth largest "Spanish-speaking" country, with over one person in ten who speaks Spanish as his or her native language.
Spanish Opportunities
Students enrolled in the liberal arts option in Spanish may prepare for careers in government, public service, translation, interpreting, sales, etc. Completion of the teacher preparation option in Spanish qualifies students for an Initial Type 10 Illinois Special Certificate with high school (9-12) and elementary (K-8) endorsements in Spanish. Certification requires the successful completion of the Illinois Certification Tests of Basic Skills, Spanish, and Assessment of Professional Teaching (Special K-12). The program meets Illinois State Board of Education (ISBE) standards for foreign language education in Spanish.
Proficiency Credit
The department will grant a maximum of nine hours of proficiency credit to both Spanish and bilingual education majors, six hours to elementary education majors and students undertaking a Spanish minor or Latin American/Latino Studies minor, and six hours to French minors. Proficiency credit will be awarded during the last semester of the program.
Transfer students
Transfer students should complete 30 hours in the major or have consent of the department and the appropriate departmental assessments for graduation. Courses older than seven years will not be accepted. Oral proficiency will be assessed.