Program Accreditation
Graduates of the Department of Nursing are able to sit for the National Council Licensure Examination for Registered Nurses (NCLEX-RN) administered by the National Council of State Boards of Nursing
.
After successful completion of this examination, the individual will be a Registered Nurse and will be fully qualified to practice professional nursing.
The Department of Nursing is approved by the Illinois Department of Financial and Professional Regulations (IDFPR). The program received an initial eight-year accreditation from the National League for Nursing (NLN) in 1981, and this program is accredited by the: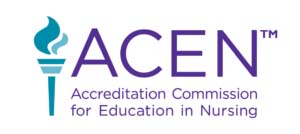 3343 Peachtree Road NE
Suite 850
Atlanta, GA 30326
Tel. 404-975-5000
Fax. 404-975-5020.
Website: www.acenursing.org.
Email: info@acenursing.org
Student Achievement Data 2018-2020
NCLEX Pass Rates
| | |
| --- | --- |
| Year | CSU Pass Rate |
| January 1 thru December 31, 2019 | 42% |
| January 1 thru December 31, 2020 | 33% |
| January 1 thru December 31, 2021 | 36% |
Job Placment Rates
| | |
| --- | --- |
| Year | Job Placement Rate |
| January - December 2018 | 100% |
| January - December 2019 | 100% |
| January - December 2020 | 100% |
Graduation Completion Rates
| | |
| --- | --- |
| Year | Graduation Rate |
| 2019 | 63% |
| 2020 | 79% |
| 2021 | 48% |