Testimonials
Department of Doctoral Studies
Nicole Ford, Cohort III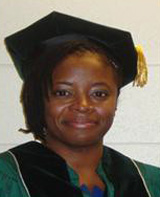 The doctoral program was completely different from graduate school. I had an opportunity to dig deep into my interests and surround myself with people that share the same passion. Doctoral seminars taught us the tools of the trade and the theories and methodologies that helped us to ask and answer interesting questions. My research was not a solitary activity. At Chicago State University, I learned from my professors, dissertation chair, committee members, and from colleagues in my cohort. My circle expanded over time to include doctoral students and professors at other schools as I attended conferences and started to submit publications. Being successful in this program requires more than just mental ability. It is a challenging task that demands unequivocal determination and long hours of reading and writing. My advice to other EDDE students is to renew your self-image by writing a description of the person you want to become, act the part, and establish goals. You are that person!
Patricia Harrell, Cohort II
Learning should be a life long journey. One should always seek to keep the mind active by feeding it pertinent information. The doctoral program at Chicago State University was a great source through which our minds were educationally fed timely information that was important to the field. In my reflection, the professors who were selected to guide us through this program gave me the patience and guidance needed to complete this most important portion of my educational journey. My family was my greatest support system and extremely instrumental in my accomplishment by pushing me enough to complete my journey. I will always be forever grateful to Chicago State University and my family by making this great achievement day comes into full fruition. There is a saying, "Each one, reach one." My plans are to reach out to as many as possible, keeping the legacy of Chicago State alive and sharing what I have learned with others.
Mark Simmons, Cohort II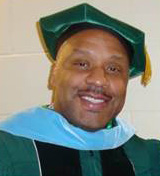 Going through Chicago State University's Ed.D program has been an excellent experience for me. However, the most valuable and gratifying experience for me has come while working to complete my doctoral dissertation. I've always been interested in writing and publishing and I have since grown equally as interested in research. Having the opportunity to use my research, data, and the knowledge gained to assist me in my private sector endeavors interests me even more. Being able to work with my chair and the other talented members of my dissertation committee has encouraged me to actively pursue ventures in the private sector and now, those ventures that once seemed unobtainable are very reachable. In essence, the journey to an Ed.D. at Chicago State University has been filled with unbelievable rewards, such as gaining knowledge, broadening your horizons and striving to become an academic expert in your field.
James Weber, Cohort II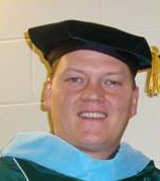 I clearly remember completing my Master's course work at Chicago State University when I was given a questionnaire regarding the doctoral program. Now several years later that questionnaire from the ELCF Professor has turned into a reality for a culminating event in my education. Soon I will be standing on a stage and receiving a doctorate degree. I wish I had two pages to write all the names of the people who have helped me on the path of this educational endeavor: Professors, Department Chair, my dissertation committee, my colleagues turned friends and the ladies and gentlemen in all the offices. These are the people who helped me complete this wonderful educational adventure and these are the people in mind when I say Chicago State University has helped me complete this journey. I am proud of myself and the accomplishment of this degree. I am equally proud to be part of the history of Chicago State University and the wonderful people in the Department of Doctoral Studies. The education I received will carry me through my life and career as an educator.
Linda Mayfield, Cohort II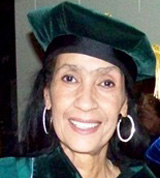 "Success is not a place at which one arrives, but rather the spirit with which one undertakes and continues the journey" (Alex Noble). Having completed my pursuit of obtaining a doctorate, I've come to realize that the journey is only now beginning. I've been rewarded for my diligence and dedication to completing my studies; however, now I must heed the call to continue to gain insight and wisdom through the experience of being of service to others. The Ed.D. Program at Chicago State University has prepared me and supplied me with the tools I need to continue my journey. The faculty and staff have challenged and stimulated my intellectual and moral ability, and because of them, I am confident of my knowledge and future application, thereof.
Patricia Dunlap, Cohort II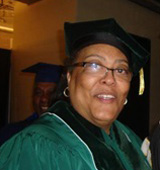 Henry Beecher stated, "The difference between perseverance and obstinacy is that one comes from a strong will and the other from a strong won't." I have been taught from a child to adulthood that it is easier to go downstairs than to go up. As I reflect upon my time in the doctoral program at Chicago State University, I realized that it would not be easy to obtain this goal; however, with perseverance and strong determination, the journey through many obstacles reached the highest point on Graduation Day. The companionship forged during the classes was unforgettable. As a cohort, we embraced and encouraged each other so that the climb toward the ultimate goal seemed more obtainable. The professors in this program helped to guide me through a dream that has become a reality. My chairperson and committee directed my path throughout the dissertation process until a successful manuscript was produced. I could never thank them enough. I know that the dream does not end at this point. Another chapter of my journey is commencing. I must now move forward to share my learned information with the education community. I am in awe of what perseverance combined with a fabulous faculty has helped me achieve. Thank you Chicago State University!
Adane Kassa, Cohort I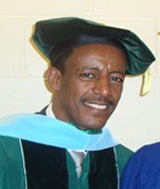 I am thrilled to be among one of the first cohort candidates at Chicago State University. Going through the doctoral program was an exciting and challenging experience. It was exciting because it gave me an opportunity to produce an independent scholarly work and was an excellent opportunity to spend time to address the research problem that I thought was significant to improve education in this country and solve it in a scientific way. Sharing the lived experience of the cohort members and diverse faculty was also an excellent opportunity for me. The journey was also challenging in that, as many other students in the program, I took on various responsibilities along with my study, such as taking care of my family and working, which oftentimes needs sacrifice and balancing. My experience with the doctoral program has given me the opportunity to educate myself, test my endurance, and write a dissertation. My successful journey would not have been possible without the support of the thoughtful faculty and dissertation committee members. I encourage my fellow cohort members to persist and finish the program successfully!
Mark Neiberg, Cohort II
The transition from a structured curriculum to research, writing and defense of the dissertation does not compare to any prior educational experience. The doctoral student goes from a traditional learning environment to an individual learning experience. The doctoral cohort model gave me lifelong friends; the opportunity to learn from others, and the program provides a rich learning environment. On the other hand, the dissertation process tested my academic skills, my character and especially the traits of discipline and persistence, and how to meet and overcome a variety of frustrations. Completing the dissertation process largely depends on acquiring the proper skills. So the real test for any doctoral program requires the answer to a single question; does the program prepare the student for research, writing and defense of the dissertation? The doctoral program at Chicago State University answers this question with a resounding yes! Each class in the program delivers a skill component to help the student in completing the dissertation process. The program creates high expectations, and gives students opportunities to participate in outside conferences that help refine analytical and writing skills while exposing the student to the research community. Department seminars and one-on-one discussion with professors added that extra layer to the program to develop a unique and professional culture to the doctoral program. I highly recommend the doctoral program in educational leadership at Chicago State University because it delivers all the academic components a student will need to achieve their goal.