Chemistry & Physics
In the News
The students in the PREP/NSBE, Jr. Program created a website about their program: csunsbe.weebly.com A STEAM Program designed to educate, motivate and encourage pre-college students into selecting careers in engineering.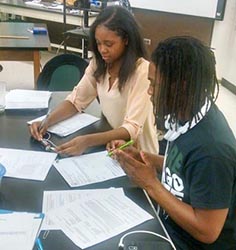 Learning Assistants
The CSU Learning Assistant (LA) program is currently in biology, chemistry, engineering , computer science mathematics, and physics. LAs are undergraduates who facilitate learning in STEM classes.
Applications for Spring 2020 LAs will open soon. (LAs Candace Young and Dwayne Sanders work through an inquiry lesson on circuits.) Apply here!
Research Experiences for Undergraduates Summer Programs
Below are Chemistry, Physics, and Engineering Studies students who participated in summer research programs Summer 2019. Ask them about their exciting research experiences!
| | | |
| --- | --- | --- |
| Student | Institution | Research Area |
| Sharely Batista | Argonne National Laboratory, Lemont, IL | X-Ray Science Division |
| Jasher Garbutt | University of Notre Dame, South Bend, IN | Bioanalytical Chemistry |
| Lorenzo Jackson | Chicago State University | Laboratory Foundations |
| LaTaysha James | Brookhaven National Laboratory, Upton, NY | Nanoscale Spectroscopy |
| Angela Johnson | University of Illinois, Urbana-Champaign, IL | Chemical and biomolecular engineering |
| William Llanos | University of North Carolina, Raleigh, NC | Electrochemistry |
| Isaiah Morgan | CERN, Geneva, Switzerland | Particle Physics |
| Ryan Stempek | CERN, Geneva, Switzerland | Particle Physics |
| Tiffany Tucker | Brookhaven National Laboratory, Upton, NY | Nanomaterials |
| Ashley Walker | Johns Hopkins University, Baltimore, MD | Astrochemistry |
The Department of Chemistry, Physics, and Engineering Studies offers Bachelor of Science degrees in Chemistry and Physics, as well as courses in physical science and a foundational program for further study in engineering. Our students have a chemistry (NOBCChE) and physics (Society of Physics Students) clubs. We've implemented innovations in teaching and assessment, and we maintain active research programs. Check out some of our photos, and meet our faculty and staff.
| | |
| --- | --- |
| | |
| Physics students Travante Thompson and Donielle Miller went to CERN in Switzerland summer 2017 to work with Dr. Garcia and Dr. Harton on high-energy particle physics. | Christopher Mallares presents his research on computational chemistry. He works with Dr. Mardis to understand the structures of molecules that can be used in solar cells. |
Mentoring and Careers
Chemistry, Physics, and Engineering Studies students seeking mentoring on choosing courses, joining a research group, and careers should contact the departmental office (x2180) to be connected to a faculty member who can assist. The department is also very active in pre-service and in-service teacher education. For more information on careers see click on Students and Alumni."
Scholarship and stipend programs
Stipend programs are available for motivated students seeking to further their careers in science.
For instance, the Center for STEM Education and Research (CSER) provides support for undergraduates who want to work in a research lab. Click here for more information on CSER
Applying to be a Learning Assistant is an excellent way to deepen your content knowledge and communication skills while exploring teaching. Click here for more Learning Assistants Program.
Contact Information:
Dr. Edmundo Garcia, Department Chair
309 Williams Science Building
Voice: 773-995-2325
Fax: 773-995-3809
Questions or comments about this site? Email the chemistry and physics site publisher.