Premedical/Health Programs Information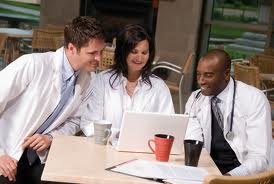 The Application
Health Occupations
Employed
Now that you are planning to enter a heath profession program in two years, there are six essential parts to your application. These are:
Competitive GPA
Competitive MCAT/DAT/OAT/PCAT/GRE Scores
Personal Statement
Completed AMCAS-E, AACOMAS, AACPMAS, or AADSAS Application
Strong Letters of Evaluation
Interview
The Office of Prehealth Professions can aid in the process, but ultimately you are responsible for earning the grades and test scores, spending the necessary time creating an excellent essay, preparing the application, establishing and developing relationships to obtain excellent references and practicing your interview skills to convince the medical school that you are a primed, competent and committed candidate. In order for us to aid you in the process, the following information is needed in your file by the spring of the year you plan to enter a medical/health school:
A completed AMCAS (Allopathic-MD via the Internet only), AACOMAS (Osteopathic-DO), AACPMAS (Podiatric-DPM), AADSAS (Dental-DDS or DMD), for all other medical/health programs; applications are based on individual school requirements.
Letters of Evaluation. A packet of Letters of Evaluation that most clearly exemplifies your strengths will be chosen by the advisor to accompany your application.
MCAT/DAT/OAT/PCAT/GRE scores (as soon as they become available).
Grades and test scores play a pivotal part in your admittance to a medical/health school.
A detailed autobiography (both hard copy and disk or as an e-mail attachment).
This is crucial for the advisor when writing your letter to become better acquainted
with the real you.
description of each of your clinical, research, volunteer and extra-curricular activities.
This will assist in the development of your personal statement.
A list of medical/health programs to which you plan to apply, in order of preference.
This will alert the office to your interests, but keeping the office informed of your
progress (acceptances, interviews and rejections) will make it easier to play
an advocate role.
List of people you will ask to provide letters of recommendation.
The AMCAS-E, AACOMAS, AACPMAS, and AADSAS Application
The American Medical College Admission Service (AMCAS), the American Association of Osteopathic Medicine Application Service (AACOMAS), the American Association of Colleges of Podiatric Medicine (AACPMAS) and the American Association of Dental Schools Application Service (AADSAS) applications allow you to apply to a number of medical/health schools with a single application. Upon receipt of a completed application, complete transcripts from colleges attended, MCAT/DAT/OAT/PCAT/GRE scores (if taken) and appropriate fee; the services authenticate transcripts and forward copies of the applications within 3-4 weeks to each medical/health school specified. The Registrar's office at each school that you have attended should forward transcripts to the application service prior to your submission of the application (but do not send before March).
Health OCCUPATIONS FOR COLLEGE STUDENTS
Clinical Laboratory Services Medicine
Clinical Chemist
Cytotechnologist
Medical Technologist
Specialist in Blood Bank Technology*
Dentistry
Dental Hygienist
Dentist*
Dietetics and Nutrition
Dietitian
Food Technologist
Home Economist
Education
Community Health Educator
Educational Therapist
Orientation & Mobility Instructor for the Blind
Rehabilitation Teacher
School Health Educator
Teacher of the Visually Impaired
Health Counseling
Genetics Counselor*
Health Information & Communication
Biological Photographer
Health Sciences Librarian*
Medical Illustrator*
Medical Record Administrator
Medical Writer
Science Writer
Technical Writer
Health Services Administration
Executive Director, Voluntary Health Agency*
Health Services Administrator*
Hospital Administrator*
Nursing Home Administrator
Social Work
Clinical Social Worker*
Medical Social Worker*
Psychiatric Social Worker*
Health Advocate (Patient Representative)
Therapist
Art Therapist*
Athletic Trainer
Corrective Therapist*
Dance Therapist*
Horticultural Therapist
Manual Arts Therapist
Occupational Therapist
Orthotist
Physical Therapist*
Prosthetist
Recreational Therapist
Respiratory Therapist
Speech Pathologist and Audiologist*
Vocational Rehabilitation Counselor
Chiropractor*
Osteopathic Physician*
Physician*
Podiatrist*
Nursing
Nurse Anesthetist
Nurse Midwife*
Nurse Practitioner*
Registered Nurse*
Pharmacy
Pharmacist*
Pharmacologist*
Psychology
Psychologist*
Science & Engineering
Anatomist*
Anthropologist*
Bacteriologist*
Biochemist*
Biologist*
Biomathematician*
Biomedical Engineer*
Biophysicist*
Biostatistician*
Cryogenicist*
Ecologist*
Entomologist*
Geneticist*
Health Physicist*
Hematologist*
Hydrophysicist*
Informatics
Microbiologist*
Parasitologist*
Physiologist*
Radiobiologist*
Sanatarian*
Serologist*
Virologist*
Veterinary Medicine
Veterinarian*
Vision Care
Optometrist*
Orthoptist
*Require education or training beyond college
Where Health Care Professionals Are Employed
Many believe that the health industry will be the largest employer in our country within the next ten years. Hospitals are the best known and the largest single employer of health workers. Nursing homes are increasing in number and need for employees. Other Inpatient Facilities such as residential homes for the mentally impaired, blind, or alcoholic employ about 250,000 professional and non-professional workers. Close to half a million health workers are employed in other vital types of settings or services which are often overlooked as part of the health industry; these are: Ambulance Services, Blood Banks, Clinical (Medical) Laboratories, Dental Laboratories, Family Planning Services, Home Health Services, Poison Control Centers, Rehabilitation Centers, Community Health Centers, Migrant Health Programs, Neighborhood Health Centers, Health Maintenance Organizations, Government (Federal Agencies and local Health Departments), Health Practitioner's Offices, Voluntary Health Agencies, Professional Health Associations and Industry (manufactures of drugs and medications, medical devices and instruments).
Today there is a national problem often referred to as maldistribution of health personnel. Job opportunities will probably be best in over-populated inner-city areas and under-populated rural areas that are hardest hit by this maldistribution. *

* Taken from Health Careers Guidebook, U.S. Department of Labor.