Transfer Students: Scholarship Announcement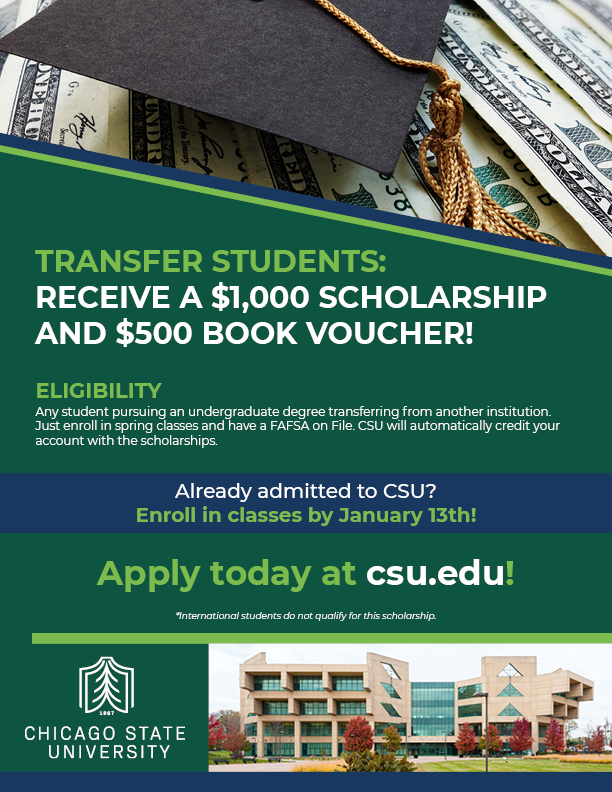 We are happy to announce that all transfer students for the coming Spring 2021 semester will receive a $1,000 tuition scholarship as well as a $500 book voucher scholarship upon enrollment! In order to become eligible for this scholarship you simply need to register for your courses for this coming semester before our January 13th deadline. You must also have a completed FAFSA on file for Spring 2021.
If you have not yet applied for the Spring 2021 term, please begin the application process here.
If you're already admitted, your next step is to confirm your admission and attend one of our admitted students next steps webinars. Once you have attended one of our excellent webinars you will be equipped with the information necessary to enroll for your classes here at CSU! Please find links to register for our admitted student webinars in your email.
If you have already attended one of our admitted student webinars, congratulations! Please be sure to get in contact with the academic advisor for your major, which can be found on these lists here, and obtain their guidance on what classes to register for in this coming semester through our Cougar Connect portal!
If you have any questions about this scholarship opportunity, or any other financial concerns, please contact our financial aid office at (773) 995-2304 or csu-finaid@csu.edu.
We look forward to seeing you on campus or virtually this coming semester! Stay safe, strong, and stalwart in your academic endeavors and you can achieve great things here at CSU!