SuccessU Program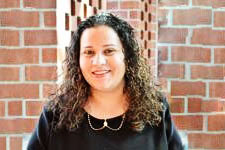 Hello and welcome! My name is Ms. Ochoa and I am a two-time Chicago State University (CSU) graduate. I received my Bachelor's in Spanish and Master's degree in Educational Leadership and Administration. My journey at Chicago State University started as a student and then a Spanish tutor in the Foreign Language department. In the foreign language department, I was given the opportunity to work along with the academic advisor at the time. I graduated in May of 2013 and applied for an advising position in the Office of Academic Support and began to work as an advisor for the Office of Academic Support in August 2013. I currently serve as the SuccessU coordinator along with Mr. Cook who is the assistant coordinator to the program. I have been working at CSU seven years and have served as the coordinator for this program for five years. We at the Office of Academic Support is currently working remotely to ensure that our students are successful during these unpresented times. I am committed to our student's success.
As an alumni and now an employee of Chicago State Univeristy I take pride in the programs we offer such as SuccessU. The goal of the SuccessU Program is to assist incoming, freshmen students whose pre-college education did not fully prepare them to reach their academic potential. The SuccessU program provides students with needed resources to help them take full advantage of the educational opportunities Chicago State University offers and to help them succeed during their first year of college with the end goal being graduation.
You qualify for this remarkable program if you have the following:
2.0-2.74 GPA
15 ACT
830 SAT
The Benefits of the SuccessU Program
Specialized orientation, advising, and registration
Individualized attention by instructors and academic advisors who work in the SuccessU program
Freshman Seminar 1500 and 1510
Access to the Rise Academy program
Participation in our RISE (Retention Initiative for Student Engagement) Program
Rise Academy Program
Bridging the Gap between High School and College
Rise Academy is a five-week summer course for conditionally admitted incoming freshmen. In RISE Academy students will take English Composition I which is aimed to give them an early start to college and participate in the Summer RISE Academy
Summer 2019 97% of Rise Academy participants passed the English course
We at Chicago State University strive to offer programs such as SuccessU to assist students in their academic needs because we want you to be successful in everything you do. For additional assistance and/or questions please contact us at acadsupport@csu.edu. We are here for you!