What is RISE Academy?
Not too long ago Andra Day won a grammy for her inspirational song, "Rise up!" Now, this is YOUR time to RISE up to pursue higher education at Chicago State University. Through RISE Academy's retention program, you can achieve a tuition-free education at Chicago State University for your first academic year!
We launched the RISE Academy because class of 2020, let's face it, you have all endured so much this year! Strikes, COVID-19 and having to learn online. You rose above it all and took the next step in your life regardless of potential roadblocks. You want to better yourself, create a better future for yourself and your family and you are doing it right, the next step is college! To show you that CSU is with you ,because WE ARE HERE FOR YOU, we launched this program and also to help close the Latinx/a/o and African American wealth gap in Illinois.
Rise Academy is a year-long program designed to kick off your freshman year at Chicago State University by offering you all the tools you will need to succeed in your first year of college, including a strong community of classmates, professors, and advisors. The Academy starts with a five-week intensive program over the summer where you earn 3 college credits before the fall semester even starts. You will get to know your professors and freshmen classmates; discover how different college majors lead to career paths and which is right for you; and explore the Chicago State campus and student resources.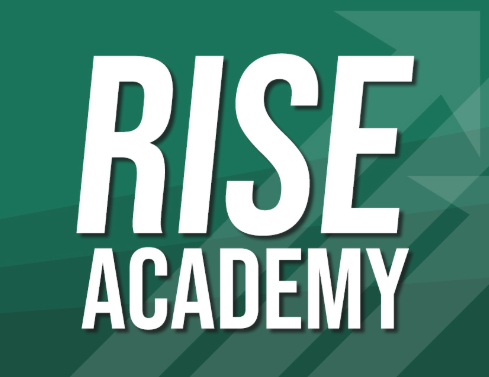 In response to these unprecedented times, Rise Academy will be offered in an e-learning format this summer. The Rise Academy summer programming will have two different start dates to accommodate our entering freshman class, June 29 and July 20. Each academy lasts 5 weeks. The course includes instruction in the morning, Monday - Thursday and workshops in the early afternoon, Monday - Friday.
This program is for all students in the United States, first-time freshman and transfer students who have under 24 credit hours.
As a RISE scholar you get amazing benefits!
The RISE

Scholarship: RiseScholars receive a full-tuition and fee scholarship for the academic year 2020-21 starting in the fall. Textbooks and the campus health care plan are included. Textbooks are included.
Personal laptop: Chicago State will provide each student with a personal laptop to use during their undergraduate years. Internet access is also covered.
College community: Spend time getting to know your college classmates, your professors, and advisors and other people on campus who can help support your college journey. We are excited to get to know you and welcome you into your Chicago State University family!
Advising and workshops: RiseScholars will stay on track with ongoing individual advising appointments and academic skills and career workshops through each semester. No Rise Scholar is alone: your advisor is there for all of your challenges and concerns.
How do I become a RISE Scholar?
We can't wait for you to be part of this program! We hope you are excited about it as we are. Remember, you rose above it all and are taking the next step in your life. We are proud of you and we are here for you!
If you have additional questions on the RISE Academy please email Dr. McKnight.