Spring Open House Recap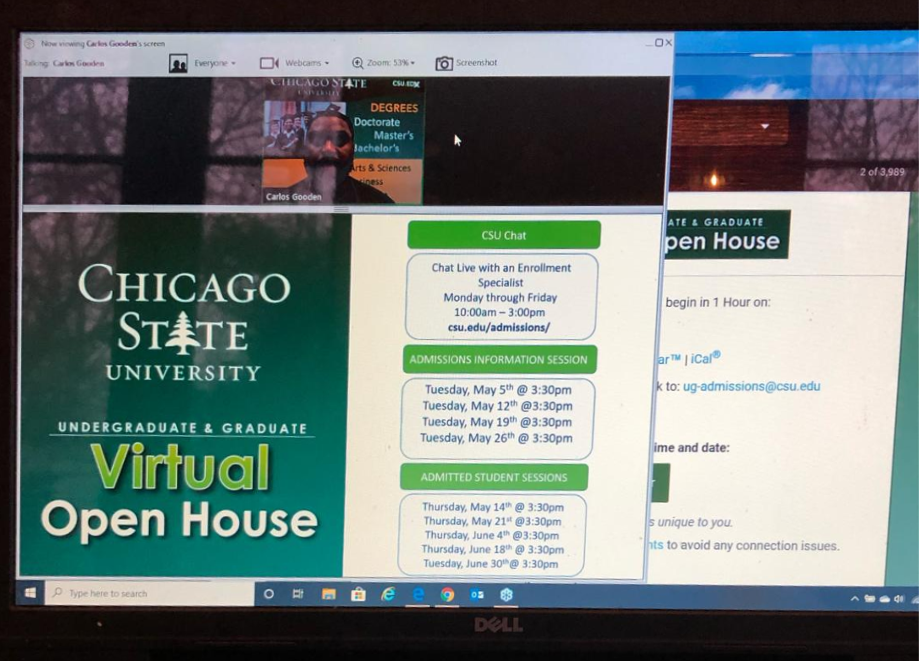 On Thursday, April 30th, 2020 Chicago State University (CSU) Office of Admissions had its very first Virtual Open House with over 800 registrants. This event was extremely successful! This Virtual Open House was a campus wide effort. Many departments were part of the Virtual Open house and with a dynamic welcome from President Scott and an overview of the university from Dr. Carlos Gooden, the Director of Undergraduate Admissions. The Open House even featured insight to the student experience outside of the classroom with an address from Dr Motley who serves as the Dean of Student Affairs. Each college and various campus departments were very actively answering questions throughout the entire virtual event. If you missed the webinar, no worries! We captured the three most popular questions asked:
Question: "I have been admitted to Chicago State University, what are my next steps?"
Answer: Congratulations on your acceptance to CSU!
The first step you need to take as an admitted student is confirm your intent to enroll. You can do so by clicking here.
The second step, you must claim your account. You can do so by clicking here.
The third step, make sure you have completed your FAFSA. If you have not done so please visit the FAFSA webite. If you have completed your FAFSA you can visit the Chicago State University financial aid website for more information on any additional documents you may need. The link to our financial aid website is here.
Question: "Are there any scholarships available for me?"
Answer: Scholarships are indeed still available for Fall 2020! President Scott announced this Fall 2020 marks the highest number of scholarships awarded in recent history. It's not too late to apply to CSU and it's not too seek scholarships. Did you know approximately 96% of students receive Financial Aid. In order to determine if you are eligible for scholarship money you must first be sure to apply and seek admissions to Chicago State University. Next, be certain you have filled out your FAFSA.If you have already completed your FAFSA please be sure you visit our financial aid website to see what else you may be missing. Once you have completed the admissions and financial aid steps,you will be notified if you are eligible for any scholarship money for Fall 2020.
Question: "Because of the COVID-19 pandemic, will Summer 2020 classes be available?"
Answer: Classes will be available for Summer 2020! Due to circumstances surrounding COVID-19, all summer classes will be online; the first 5 weeks summer session. Classes will begin May 26th, 2020. The second 5 week summer session will begin June 29th, 2020. Visit for those dates and more. For course scheduling for Summer 2020 visit here here.
If you missed the virtual open house, Admissions will be hosting Information webinars. Please visit this link for dates and details&nbs;dates and details. If you have additional questions do not hesitate to contact the office of undergraduate admissions at ug-admissions@csu.edu.