Last Day To Withdraw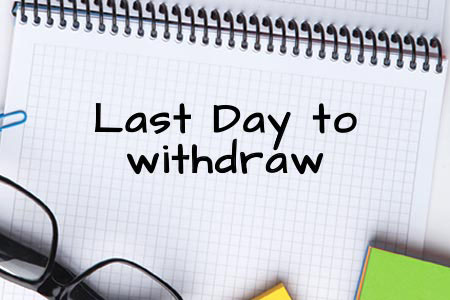 Friday, October 29th, 2021, is the last day to withdraw or completely withdraw from a Fall 2021 Regular (16-Weeks) session course and receive a "W" on your transcript.
PLEASE NOTE:
Your request must be made via the Add-Drop form no later than Friday, October 29th.
Once processed, your academic record will reflect a grade code of ''W'' for the course(s).
Tuition and fees WILL NOT be refunded for withdrawal.
You are financially obligated to pay for the course(s) as the 100% withdraw date has passed.
A "Complete withdraw" request, resulting in a full withdrawal for the term, must be submitted using the "Complete Withdrawal Form" in Cougar Connect (under the student resource tab).
Before submitting your Complete Withdrawal, please speak with you Advisor and Financial Aid first.
For questions, please email: CSU-Registrar@csu.edu