Undergraduate Admissions Hosts Its Virtual Open House!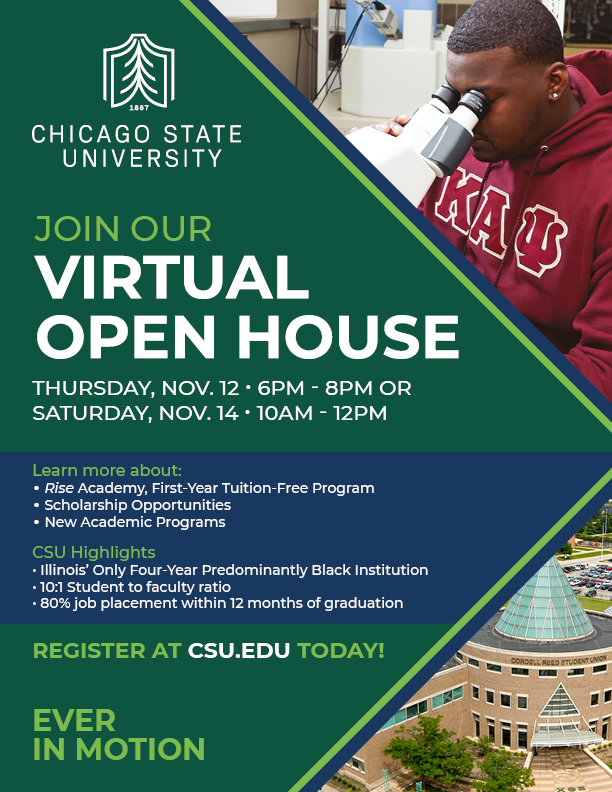 On Thursday, November 12th and Saturday, November 14th, the Undergraduate Admissions Team at Chicago State University hosted their Virtual Open House where students, faculty and staff members had the opportunity to meet and greet prospective CSU students.
The sessions began with videos showcasing the CSU marching band, student activities and our gorgeous campus. Attendees were treated to an official welcome from University President Z. Scott, as well as hearing from career services, financial aid and our diverse student panel. Those students who participated shared their point of view of university life with a level of passion and enthusiasm that we are certain reached those who wanted to know more about our university.
The sessions concluded with a 40-minute forum offered by the following departments:
College of Arts & Sciences
College of Education
College of Business
College of Health Sciences
College of Pharmacy
Division of Continuing Education
We had a number of prospective students attend the forums and there was great dialogue amongst the group. The presentations were well received and we're looking forward to hosting another session this coming spring!
The admissions team is grateful to everyone who participated in this event, especially our prospective students and faculty and staff members. CSU is definitely living up to its slogan of being "ever in motion".