Accreditation & Self Study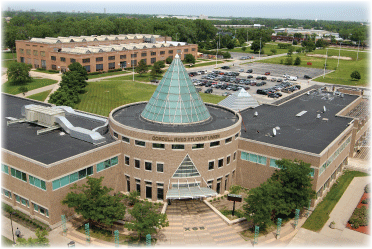 Chicago State University (CSU) is a public, urban, comprehensive institution located on the south side of Chicago. It was established as a teacher training institution in 1867 and is the second oldest public university in the state of Illinois. It has been accredited by the North Central Association of Colleges and Schools/Higher Learning Commission since 1941.
The Higher Learning Commission (HLC) visited CSU on November 12-14, 2012 for its re-accreditation visit. The Self-Study report highlights the accomplishments and challenges that CSU has faced over the past ten years and how it will move forward in the next ten years responding to its challenges and building on its accomplishments. The University was granted a reaffirmation of accreditation for an additional ten years as a result of that visit. To review the Self-Study Report from November 2012 visit click here ...
In January 2017, the HLC Commission visited the University as part of the fourth year mid-cycle review on the Standard Pathway. The resulting Assurance Report and supporting evidence files, federal compliance report, and enrollment management plan can be found on the Accreditation page.
General Institutional Accountability Measures and Associated Key Performance Indicators (KPIs)
The following list of measures are used by university units in measuring their effectiveness relative to our Strategic Plan (2012-2017). Units may also use additional measures specific to their areas. These measures will be tracked on an quarterly to annual basis.
Objective : Provide high quality instructional programs that are affordable, accessible, and student centered.
INDICATORS
EVIDENCE
INDICATOR # 1: Regional accreditation and the proportion of degree programs with professional accreditation among those programs for which professional accreditation is available.
College of Arts and Sciences Accreditation
College of Business Accreditation
College of Education Accreditation
College of Health Sciences Accreditation
College of Pharmacy Accreditation
INDICATOR # 2: The percent of faculty with terminal degrees.
Percentage of all full-time faculty that has earned a doctoral degree.
INDICATOR # 3: The average amount of financial assistance per student FTE and compared to IBHE institutions and IBHE established peers institutions trends.
3 Year Trend Financial Aid by FTE for Illinois Public Institutions
INDICATOR # 4: The pass rate percentages for professional examinations in high demand fields such as nursing, special and early childhood education, and STEM.
NCLEX-RN Licensing Examination
The pass rate on the NCLEX-RN continues to be above that required by the Illinois Department of Financial and Professional Regulation (IDFPR). In 2012, the pass rate for first time testers was 95%. This score was above the state and national average. Results for the graduating class of 2012 will not be available until February 2013.
College of Education Pass Rates
INDICATOR # 5: The average amount of credits earned and amount of the average amount of time needed to complete a degree.
Average Credits Earned and Average Time-To- Degree
INDICATOR # 6: Five and ten year campus enrollment, retention, and graduation (4, 6/also original institution, 8 year) trends by ethnicity, gender, state and international residency, student level, age, first-time freshmen or transfer, full-time and part-time status.
Transfer Graduation Rates
First Time Full-Time Graduation Rates
Transfer Retention Rates
First Time Full-Time Retention Rates
Objective : Deliver support programs and services that enhance student recruiting and retention, timely completion of degrees, and attainment of student learning outcomes.