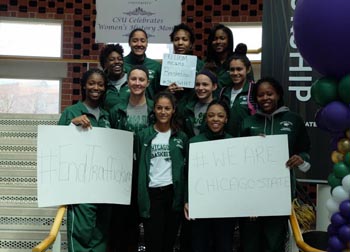 CSU student athletes excel both on the field and in the classroom, and now are excelling at promoting awareness about human trafficking as they work with UNICEF to address one of the most important human rights issues of the day.
Shut Out Trafficking at Chicago State University kicked-off on

Monday, March 30th

with a dual keynote by Dr. Richard Lapchick of the National Consortium for Academics and Sports, and Sarah Wilbanks, End Trafficking Fellow at the U.S. Fund for UNICEF. Dr. Lapchick spoke to the 150 student athletes, coaches, staff, and faculty present about his life's work fighting for social justice and racial equality. Sarah talked about the issue of human trafficking on both a global and local scale, focusing on the severity of the sex trafficking problem in Chicago.
The goals of Shut Out Trafficking are to raise awareness about human trafficking in the United States, and to empower students to take action against it. Shut Out Trafficking will educate college students on the brutality of human trafficking and the $150 billion dollar industry it has become.
Read the full article click HERE