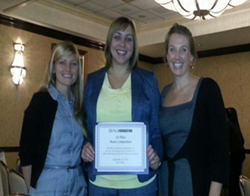 Chicago State University College of Pharmacy's third year student pharmacists Brandy Cooper, Abby Dunker, Jaime Brown, Michelle Dudek and Rainier Ostil (not pictured) were awarded 1st place in the Student Research Poster Competition at the 2012 Illinois Pharmacist's Association Annual Meeting. The title of their research was, "Neurotoxic Effects of Acrylamide on Kappa Opioid Receptors and NR4a2 in the Nervous System of Juvenile Rats." Dr. Abir El-Alfy, Assistant Professor, Department of Pharmaceutical Sciences, was the faculty mentor for the project.
"I am extremely proud of our students' achievements in this scholarly area. This is the 2nd year since the College of Pharmacy's (COP) inception in 2008 that CSU-COP students have been awarded 1st place for their research poster presentations at the Illinois Pharmacist's Association Annual Meeting. The students' continued successes at national and state research competitions is a validation of the impact that strong faculty-student research collaborations have had at the College." said Dr. Miriam A. Mobley Smith, dean of the Chicago State University College of Pharmacy.
This is the first doctoral program for the health sciences in CSU's 145-year history. Graduating its' first class in May of 2012, the program has also been recognized as the most diverse pharmacy program in Illinois and one of the most diverse in the nation, ranking No. 11 in underrepresented minority student-pharmacist enrollment, according to the American Association of Colleges of Pharmacy (AACP).