Academic Affairs Biographies
Elmer J. Gentry, Ph.D., is the Associate Dean of Pharmacy Academic Affairs for the Chicago State University College of Pharmacy (CSU-COP).  Dr. Gentry received his B.S. from Missouri Western State College (1993 in Chemistry) and M.S. (1996) and Ph.D. (1999) in Medicinal Chemistry from the University of Kansas.  He served on the faculty at Midwestern University, College of Pharmacy-Glendale from 1999-2007.
He was named the 2007 Teacher of the Year for both the first and second year pharmacy classes at the College of Pharmacy-Glendale.  Additionally he has received the Edgar C. Little Outstanding Chemistry Graduate Award from Missouri Western State College, the Pharmacy Graduate Student Honors Symposium Award from the University of Kansas, and an American Foundation for Pharmaceutical Education Pre-doctoral fellowship from 1997-1999.  He was honored as the National Advisor of the Year runner-up by the Phi Delta Chi pharmacy fraternity.
Dr. Gentry is a member of numerous scientific and professional organizations and has served as the Chair of the Section of Teachers of Chemistry of the American Association of Colleges of Pharmacy.  His research interests include:  synthetic manipulation of antimicrobial agents to modulate potency and spectrum of activity, use of combinatorial chemistry for drug discovery and development, and improving delivery of science courses for professional and pre-professional students.
---
 Staff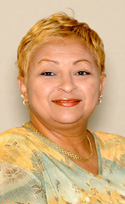 LaTania C. Milner is the Office Administrator in College of Pharmacy, Academic Affairs and Development at Chicago State University. She is currently pursuing an Individualized Curriculum degree with a minor in Criminal Justice and Psychology. She has worked at Chicago State University in various departments on campus for 13 years. Ms. Milner sits on the Employee Advisory Council (EAC), representing the Civil Service work at CSU.
Naomi Simwenyi, M.S., is the Director of Continuing Professional Education at Chicago State University College of Pharmacy (CSU-COP).  Ms. Simwenyi has over 12 years of experience in medical education accreditation combined with continuing medical education both in the academic and hospital setting. She has extensive experience in all components of education program management that include: design, marketing, delivery, and assessment. Her leadership is focused on the delivery of exceptional customer service and quality of programs, accomplished through an internal team approach with an emphasis on external outreach collaboration.
Ms. Simwenyi received her Masters of Science degree in corporate communication from Northwestern University, and her Bachelor of Science degree in communications from Eastern Michigan University. Prior to joining Chicago State University, Ms. Simwenyi worked as the Residency Education Program Administrator for the University of Illinois/Metropolitan Group Hospital Residency in General Surgery where she oversaw all aspects of operations as well as providing implementation support for new initiatives and was instrumental in the programs reaccreditation process.