CSU French Summer Study Abroad Program 2012
At the Université Internationale d'Été de Nice (on the French Riviera)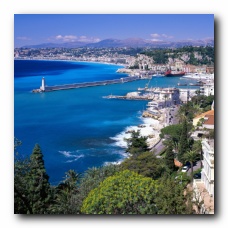 Objective: To give Chicago State French language students the opportunity to deepen French language skills and to explore aspects of French culture, in particular the history, literature, and the arts of the "Provence" area of France (Southern part of France).
Length of Program: a 4-week language immersion program starting the first week of July at the Université d'Été de Nice.  In addition, students are required (when selected for trip) to participate in pre-orientation sessions from Jan. to May as well as assessment sessions upon return.
Credit: Students will earn 6 credit hours after satisfactory completion of the program.
Admission to the Program:
Min.

age 18.

CSU students with a minimum of

2 semesters in French

language study or through approval of the department. Language skills will be assessed through transcripts, and/or oral interviews. Some years, the program will be open to French language teachers interested in methodology training in FLE (Français langue Etrangère).

Students must be in good academic standing (2.75-3.0 GPA).

A complete application form and a 300 word essay on "Why I would like to study abroad in France."
Contact Office of International Programs or FLL Department, HWH 301A,for an application (due in November!)
A Bientôt, à Nice!
Cordialement, Madame Delgado-Norris!