Secondary Teaching Option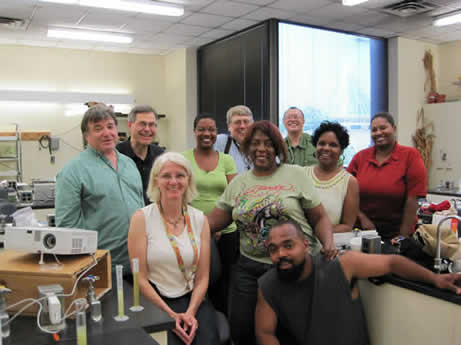 The Secondary Teaching Option (BIOT) welcomes students who seek BOTH a B.S. in Biology AND an Illinois Type 09 certificate to teach Grades 6-12 Biology. Our program is approved by the State of Illinois Board of Education (ISBE), and we are nationally accredited by the National Science Teachers Association (NSTA) and National Council for Accreditation of Teacher Education (NCATE). We strive to prepare highly effective teachers skilled in managing, motivating and promoting learning of biology among diverse high school students.. Most of our graduates teach in the Chicago Public School district as well as several suburban districts.

The BIOT program differs from the General Biology Option in that our students take several Education courses, have clinical observation hours and teaching experiences, and must pass three state administered exams in order to become certified. More information about the State of Illinois exams and requirements for teachers can be found at the ISBE website under the certification link (http://www.isbe.state.il.us/certification/html/becoming_teacher.htm). Incoming freshmen can expect to complete the program in 4.5 - 5 years, including the semester-long field experience of Student Teaching.

Individuals who already have an undergraduate degree, or who already have an initial teaching certificate, can choose from several pathways to becoming a High School Biology Teacher through the College of Education (COE). More information about the post-baccalaureate, alternative and MAT programs can be obtained at COE Office of Teacher Certification (http://www.csu.edu/collegeofeducation/TeacherCertification/Forms/newapplications.htm).
Check out our science teaching website to learn how CSU is promoting science teacher education and student learning: www.csuteachscience.org

Curriculum
A list of required courses is summarized below and for a more complete list Click Here. A suggested semester by semester schedule can be downloaded here. Hardcopies of both documents can also be obtained in the Biology Department Main Office (SCI 310).
General Education Requirements: 30 hrs
6 hours English Composition, 6 hours Foreign Language, 9 hours Humanities, 9 hours Social Sciences. Courses must also embed requirements Critical Thinking (3 credit hours), Diversity (3 credit hours), Fine Arts (3 credit hours) and Interdisciplinary 3 credit hours).
Required Courses: 32 credit hours
BIOL 1600, 1710, 3040, 3050, 2550, and 3055; ZOOL 2040 and 2050; BOT 2050; PSLY 2040.
Elective Science Courses: 4 credit hours
One upper level course preferably that includes a laboratory. Recommended courses include BIOL3690; 4520; 4725; CHEM 4302.
Required Supportive Courses:33 credit hours
MATH 1200 and 1210; CHEM 1550, 1560, and Chem 2500 followed by 2510 OR CHEM 2010 followed by 4302; PHYS 1510 and 1520; PHYS SCI 1114 (or GEOG 1400).
Professional Education Courses: 31 credit hours
ELCF 1520, 2000, 4500*; READ 4100*; PSYC 2020; S ED 4301 and 4303*; BIOL 4630*, 4750* and CAS 2630*. BIOL 1092.**
*Restricted to students admitted to the College of Education.
** The Content Exam Preparation course is optional and usually taken within 1 yr of student teaching. However, it is required for any student who fails the exam on the first try. Credit does not count toward graduation.
Rules and Restrictions
The Biology Department requires ALL transfer students to take the reading and math placement exams, and once enrolled at CSU, no major or supporting course can be taken at a two-year college.

Neither the Biology Department nor COE accept grades less than a 'C' as transfer credit OR for a Biology or Education concentration course taken at CSU. A grade of 'D' in permitted for one supporting course. A maximum of 9 hours of Education courses from a two-year college can be transferred into the program.

Certain education courses require formal admission to the College of Education and this is usually done 2 years before student teaching when fewer than 12 credit hours of General Education requirements remain.

A GPA of 2.5 or higher is required for admission to the COE and to be permitted to student teach. All students must earn a grade of 'B' or better during student teaching or it will need to be repeated.

Additional rules or restrictions from the College of Education can be found at http://www.csu.edu/collegeofeducation/.


Individuals interested in the undergraduate program should select the Biology Secondary Teaching Option (BIOT) category when applying to the University as an incoming freshman or transfer student (http://www.csu.edu/Admissions/howtoapply.htm). Students accepted to the BIOT program are considered "intended" until they have completed:
the State of Illinois Basic Skills test (typically at the end of sophomore year) and
all general requirements expected of all Biology majors (see 'General' section of the Biological Sciences webpage).
Advisement and Questions
Post-baccalaureate non-degree students are advised together with the UG BIOT students in the Department of Biological Sciences. Contact Dr. Karel Jacobs (kjacobs@csu.edu t. 773.995.2338) for advising information or any other questions you may have. You can also contact the Biology Main Office at 773.995.2183.
We look forward to talking with you!